Event Details
---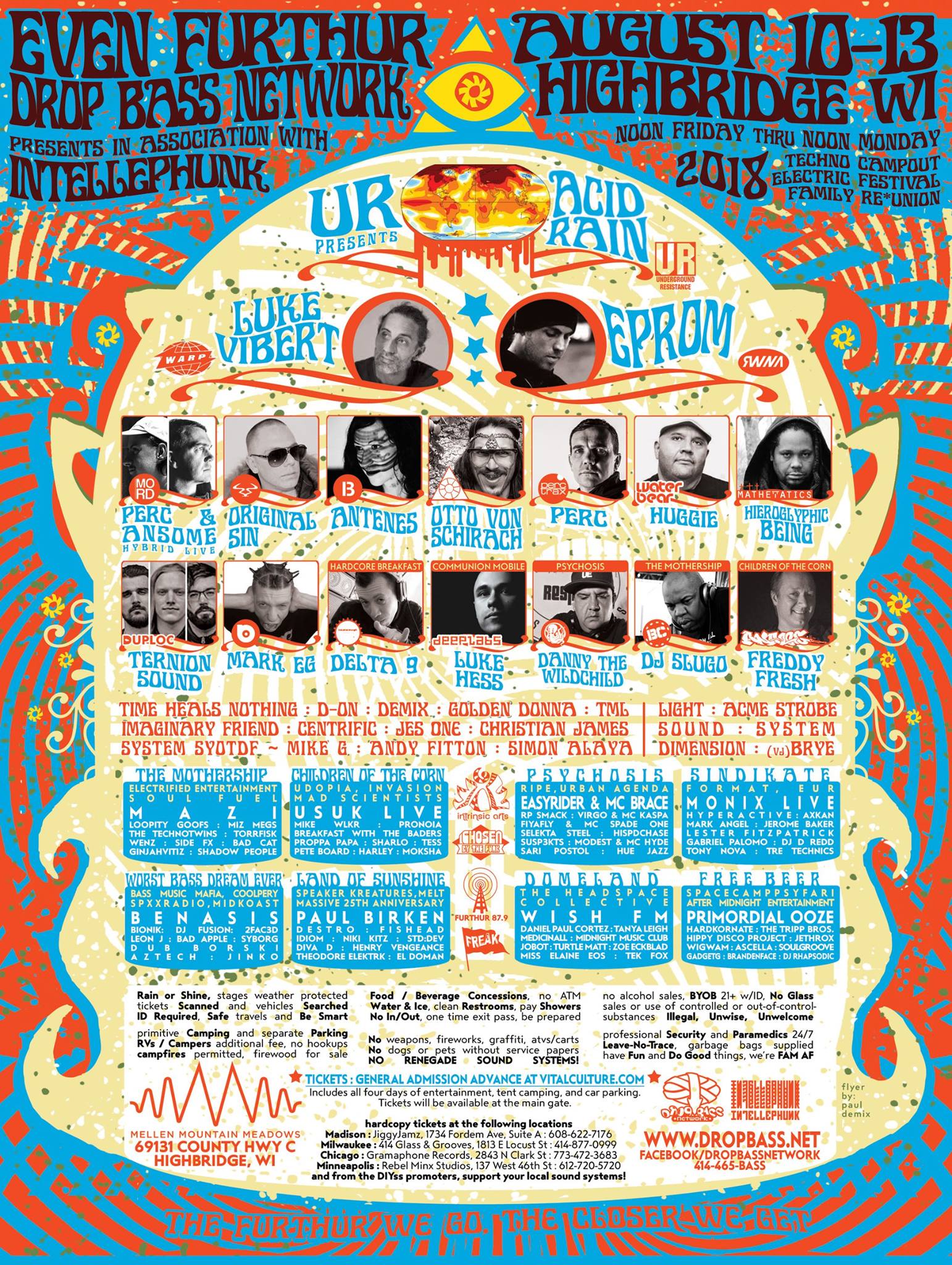 Drop Bass Network
presents
in association with Intellephunk
Even Furthur
techno campout : electric festival : family reunion
noon Friday, August August 10 thru
noon Monday, August 13, 2018
Mellen Mountain Meadows
69131 County Highway C
Highbridge, WI
get On The Bus!
*************
tickets on sale Prankster Day, April 1st
https://vitalculture.com/evenfurthur/3599
sign up for the Midwest Hardcorps mailing list!
http://www.dropbass.net/contact-1/
*************
Talent
Even Furthur was, is, and always will be a One Main Stage event
stay tuned for headliner announcement May Day
DIYss : Do.It.Yourself sound systems
eight stages presented by Midwest promoting partners
200+ djs and live acts playing all styles of electronic music
12pm to 6pm Friday, 10am to 6pm Saturday and Sunday
day time
Hardcore Breakfast : Saturday pancakes, beer, and gabber
Communion Mobile : Sunday afternoon open air techno groove
night time
Kool-Aid Promenade variety show : Chosen by the Funk
Techno Pagan Ritual : Burn Baby Burn! performance art
Perseids Meteor Shower : new moon, dark skies, shooting stars
all the time
Free Radio Furthur 101.1FM : turn on, tune in, drop bass
Theme Camps: Let your freak flag fly! express, create, participate
*************
light : sound : dimension
HeadLights : Math Static
SubKulture : System
PsychoCandy : (vj) Brye
Produktion Pranksters : Support Squad
*************
Vending (coordinator Matt Massive):
email dropbass@dropbass.net requests to reserve space
Volunteers (coordinator Carissa Cornwell):
email dropbass@dropbass.net to be part of Prankster Produktion
*************
2017 Lineup : Wink, AX&P, Dubloadz, Black Madonna, TJR, Black Asteroid, Jlin, Anklepants, Heist, Stranjah, Ancient Methods, Dan Bell, Prototype 909, Ocelot, Tommie Sunshine, Tim Shopp, dj ESP, Fortune, Fresko, Jes One, Alfonz Delamota, D.J.P., Mark Angel
2017 DIYss : dj Dan, Jerome Baker, Mark EG, Hyperactive, Mr Bill, Goodsex, dj 3D w/ mc Brace, Elfscape
2016 Lineup : Fixmer/McCarthy, Perc, dj Rap, Reid Speed, Shortee, Miles Maeda, Sunshine Jones, Wade Randolph Hampton, Rob Acid, Desert Dwellers, Lenny Dee, Baseck, Gein, Drumcell, Terence Fixmer, Dustin Zahn, dj ESP, Frankie Bones, Doubt, Tim Sweeney, Jes One
2016 DIYss : Deadly Buda, Hot Dish, Speedy, Efex, the Noid, Danny the Wildchild, Mystic Bill, Centrific, Rob Gee, Spankalicious
*************
FAQ
Rain or Shine, stages weather protected
tickets Scanned and vehicles Searched
ID Required, expect LEO outside venue
Food / Beverage Concessions, no ATM
Water & Ice, clean Restrooms, pay Showers
No In/Out, one time exit pass, be prepared
no alcohol sales, BYOB 21+ w/ID, No Glass
sales or use of controlled or out-of-control
substances Illegal, Unwise, Unwelcome
primitive Camping and separate Parking
RVs / Campers additional fee, no hookups
campfires permitted, firewood for sale
No weapons, fireworks, graffiti, atvs/carts
No Dogs or pets without service papers
NO RENEGADE SOUND SYSTEMS!
professional Security and Paramedics 24/7
Leave-No-Trace, garbage bags supplied
have Fun and Do Good things, we FAM AF
*************
Ticket Holder Notice:
Bring your digital ticket printed out or on your mobile device for scanning at the main gate.
Ticket price includes all four days of camping, parking, and entertainment.
No refund. No exchange. All purchases are final. Not redeemable for cash.
Event promoter reserves right to revoke the license granted by ticket. ROAR.
By using ticket you consent to your likeness, voice, and/or name being used /out pay.
Person using ticket assumes all risk of personal injury and loss or damage to property.
Event Map